Our Strategy
Our goal is simple - better understand the financial ecosystem and improve it.
NEFE believes that equitable and effective financial education that is accessible to all makes it easier for everyone to navigate the financial system, creating a more just society.

The 2019-2024 Strategic Plan: Impact for Financial Education helps NEFE focus its efforts broadly on effecting wide-spread change and understanding and improving the Personal Finance Ecosystem, the framework that underpins financial well-being.

NEFE mobilizes and inspires educators, researchers and advocates nationwide to maximize the impact of financial education.
---
Our Legacy Is Built On Championing Effective Financial Education.
As one of the first organizations to wholly dedicate its efforts to delivering free, quality financial education, NEFE continues to embrace and contribute to best practices in collaboration, research and evaluation.
Strategic Plan Highlights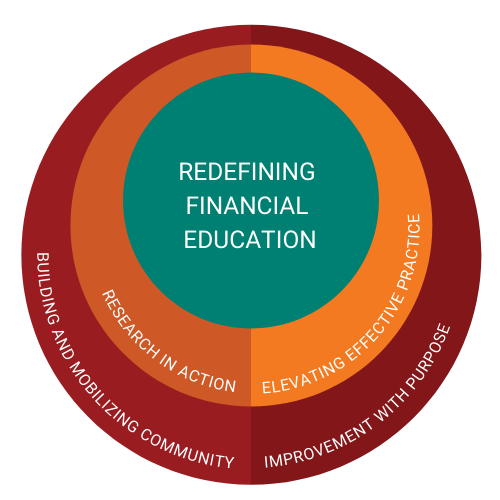 ---
---
Our Commitment
NEFE will continue to evolve operationally and in how we best serve our field. We also will share our progress with you regularly. What good is a plan without accountability? While we cannot say yes to every idea that has merit, we will endeavor to help financial well-being advocates thrive. NEFE seeks to be a catalyst for growth, impact and change for our field. Every person deserves opportunity to increase their financial well-being. We believe our strategic goals will help us increase momentum for positive transformation.