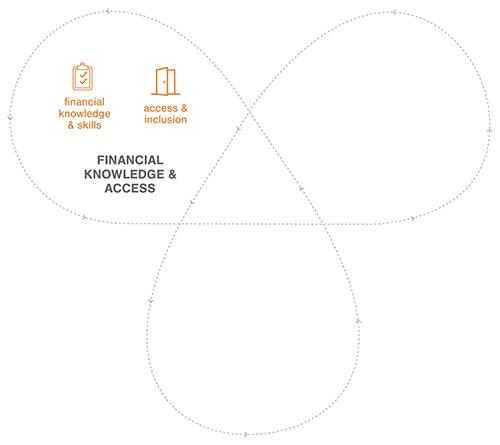 Financial Knowledge and Access refers to the individual's ability to act in their own self-defined, best financial interest. It is comprised of two key elements: the financial knowledge and skills to decide or act (i.e., financial literacy) and the opportunity to take action and exercise choice within financial society (i.e., access and inclusion).
Financial knowledge is the objective mastery of financial definitions, terms and concepts.
Financial skills determine whether an individual can make decisions with that knowledge. For example, a person might know that a credit score of 800 is good, but not know the steps to improve their own credit rating. Skills puts knowledge into action.
Access and Inclusion refers to participation in financial society, which NEFE defines as the opportunity and awareness to take action and exercise choice within financial markets, the financial services industry, and all aspects of financial life. We acknowledge there are numerous barriers to full inclusion for many individuals, most of which are systemic.