Programs Associate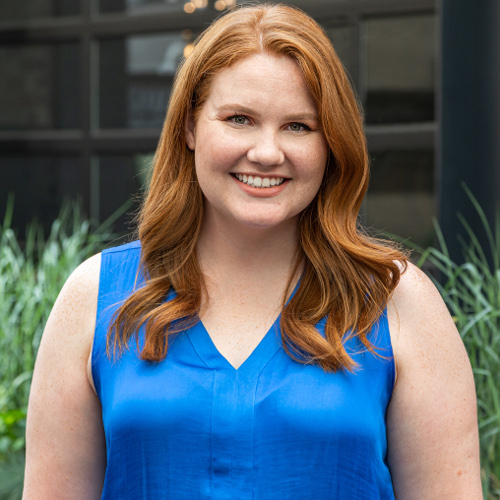 Sarah Volk is an associate on the programs team. Originally from Indianapolis, Sarah earned a bachelor's degree in economics with focuses on education and socioeconomic inequality from the University of Michigan, Ann Arbor (UM) in 2018.
What brought you to NEFE?
During my fourth and last year as an undergraduate, I took a one-credit course on personal finance that used NEFE's college program, CashCourse. This is what first introduced me to NEFE and ultimately led me to pursue working in financial education. NEFE's mission is a perfect intersection of my interests in economics and education.
What interests you about personal finance?
My father worked as a financial advisor for many years, so he was always extremely interested in personal finance. I have a vivid memory of the first time I ever received money from babysitting. He promptly told me that a third of the money would be going into a savings account to be used for my retirement—which at the time was more than 55 years in the future!
Because of this, I've always been familiar with the concept of managing money. While studying economics at UM, I was instantly drawn to the field of behavioral economics. I took an undergraduate class about ethics in economic decision making that really got me interested in how individuals make money choices.
How would you describe your job to a fifth grader?
At some point in their lives, everybody has to decide how they are going to make money and how they are going to spend the money they make. I support those who teach people about their money.
What is one memorable experience from your time at NEFE so far?
I've really enjoyed talking to our intermediary partners face to face at conferences. Part of my role includes helping educators utilize our resources best for their audiences, and it's been so great to hear in person how schools and libraries are using NEFE materials and what struggles they face. These valuable conversations really inform how I approach my day-to-day work.
As a recent graduate yourself, what are three important personal finance subjects to share with young adults?
I think the most important concept is to have some sort of emergency fund. A lot of guidelines suggest putting away three to six months' worth of living expenses, which can sound really intimidating, so I started with a much smaller goal to give me a feeling of achievement, and then slowly built off that.
Next, I think basic budgeting is critical. Even just checking the balances on my accounts each morning has helped me feel more on top of my money and budgeting out every expense has made me feel really in control on top of that.
Finally, I think saving for retirement can be easily overlooked in your early 20s. No matter how stressed I sometimes feel looking at my monthly budget, I always am grateful to be able to put something away, no matter how little, for my future.
What do you like to do in your free time?
I enjoy getting outside to go running or hiking. I also like painting, going to museums, and keeping up with current events and economic news. I'm a huge Michigan basketball fan, so when the college season rolls around, you can always find me cheering for the Wolverines.