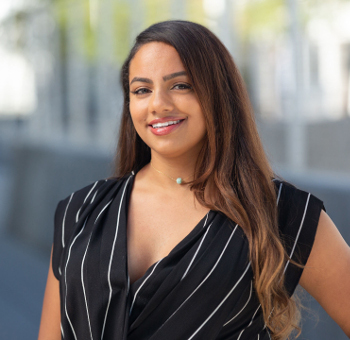 NEFE welcomes Naomi Verdun to its Marketing and Communications department. A Colorado native, Naomi graduated from Metropolitan State University of Denver in 2016 with a bachelor's degree in journalism/communications and a minor in marketing.
Prior to joining NEFE, Naomi worked in the nonprofit field. She brings skills in and a passion for many areas of marketing, including social media, writing and design.
NEFE: What brought you to NEFE?
NV: I was attracted to NEFE's mission to empower individuals to make better financial decisions — especially focusing on underserved communities. As a preteen I participated in global outreach trips through my church where I helped build homes for the less fortunate in Mexico. This experience made me realize how blessed I was. It is part of my life purpose to inspire and help others. Every day I wake up excited to go to work at NEFE because I know I am fulfilling this goal.
NEFE: How has working at NEFE changed your perspective on money?
NV: I am more conscious of my spending habits. Before working here, I had no formal personal finance education. Honestly, I thought I knew more than I actually did. I have learned more about personal finance in my first few months at NEFE than I have in my entire life.
NEFE: What inspires you to pursue a career helping others get financial education?
NV: My grandma always has been my biggest role model and inspiration. She had an eighth-grade education and was raised during the Great Depression. She constantly told me, "Education is the one thing nobody can take away from you." This statement sticks with me and influences me to this day.
Also, I have directly witnessed how a decline in health can impact an entire family's financial future. In 1999, my father was diagnosed with multiple sclerosis. I have had to handle complicated financial decisions that I never anticipated, including becoming his main caregiver and taking on his power of attorney at age 20.
My father's illness progressed quickly over a span of five years and I had to sell his house, preplan costly funeral arrangements, move him to a nursing facility and apply for him to get Medicaid. These financial decisions pushed me to grow up quickly, become more resourceful, and plan ahead for myself and my family. I still have a lot of work to do, but I am so grateful for what I have.
NEFE: What are some of your financial goals?
NV: I would love to travel more in the coming years. As I move forward into the next phase of my life, I hope to use NEFE's tools to help align my money decisions more appropriately with my values.
I also just accomplished a major life goal by buying my first home. Weighing out the true cost of owning a home is so important before purchasing. The Smart About Money "My Housing Plan" course helped me determine that purchasing a home would fit my lifestyle better than continuing to rent.
One piece of advice I would give to first-time homebuyers is to research down payment and closing cost assistance programs. Some nonprofit organizations and state or local government agencies can help you with these costs through grant money or low-interest loans.
NEFE: What are your interests outside of work?
NV: My family is very important to me. Including my long-term boyfriend, mom, dad, sisters, close friends who I love as family and my six-pound "fur baby" dog Sugar. They are my support system and without them I would be lost. I also enjoy photography, art, yoga, reading, interior decoration, fashion and beauty.