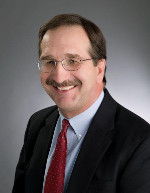 When David (Dave) Kaus first started at the College for Financial Planning in the late 1980s, all he was looking for was a steady paycheck and good benefits to support his growing family.
Raised in the rural Colorado town of Eastlake (population 300), where his dad was the postmaster and owned the frozen food locker, Dave spent his childhood playing baseball and doing "lots of stupid stuff" that he and his buddies tried to hide from the watchful eyes of the "little blue-haired ladies."
He remembers the exact moment when he decided to leave the farm. It was a scorching July afternoon and he had just used all his body weight to shove a sled of 120-pound hay bales onto a field for the thousandth time. Many of his buddies already had left for college. Anything was better than sledding hay, he thought. So, he paid his own way to school and became an accountant.
His early career included a stint with the Comptroller of the Currency and time spent in public accounting where he — sort of — worked with the FBI. (He could tell you more, but … well, you know.)
Once married and the father of three daughters, he transitioned to the College for Financial Planning in February 1989, where his duties went far beyond crunching numbers. He helped construct a new office building, participated in the accreditation process for the College, and ultimately shepherded NEFE through the process of becoming the private nonprofit 501(c)(3) national foundation it is today.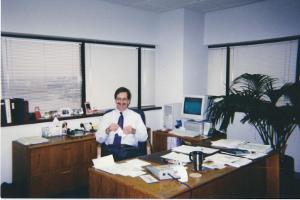 For more than three decades, Dave has helped oversee NEFE's major milestones (see graphic below) while growing and protecting the endowment that powers its work. It's been a career full of challenges, which is just the way he likes it.
"We did our job on the financial side. Took care of our assets. I think what [former President and CEO Ted Beck] and I would say is we were able to grow the organization," he says. "We hired really good people who wanted to do a good job. And we tried very hard to take care of them. That's what I'm most proud of. I have a lot of gratitude for my opportunities."
Over the years, NEFE's mission has come to mean a lot to him.
"Sitting in my chair, you don't get to see the direct impact, but you do get to see how fulfilling it is for those on the front lines. Our job is always to make sure that they have the funds and good enough systems to do it. You try to make sure every dollar that can go to the programs goes to programs."
NEFE wishes to say, thanks, Dave. We couldn't have done it without you.
" This is a really good jumping off point for me and for NEFE. There are going to be new strategies, new challenges and young, excited professionals to try to move this thing forward. It's just the right time. And it feels right."
Dave's NEFE Milestones
NEFE was created in 1997 using the proceeds from the sale of the College for Financial Planning. As chief operating officer and chief financial officer, Dave has participated in all of NEFE's major milestones, starting before the foundation was even created.