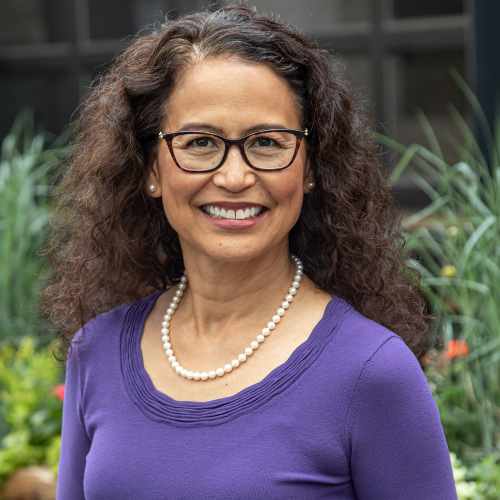 As a high school junior in the 1970s, Joanne Flores Moses knew she wanted a career that would provide a solid financial future for herself and her family. One day her American history teacher mentioned the many opportunities for women in personal accounting. He said his wife was a certified public accountant (CPA) and that the field was likely to grow as taxes and retirement plans became more complicated. At that moment, Moses decided to become a CPA.
She was born in Guam and lived in Oklahoma, New York and Libya as a child due to her father's career in the U.S. Air Force. She settled in Colorado in 1976, where she received her bachelor's degree in accounting from the University of Denver. She fulfilled her goal of becoming a CPA and attended the Commonfund Endowment Institute at the Yale School of Management.
Prior to joining NEFE in 2018, Moses worked for 20 years at the Boettcher Foundation in Denver, where she started as controller in 1998 and moved up to director of finance in 2007. She oversaw the growth of the foundation's $300 million investment portfolio, which included a mix of traditional asset classes and alternative investments.
Moses brings experience in accounting, private foundation tax regulations, budget development and management, audit and internal controls, and retirement plan oversight. As NEFE's CFO, she oversees day-to-day business operations and manages the endowment's investment activity and finances. Her responsibilities include recordkeeping, taxes, payroll, information systems, human resources, corporate insurance, building leasing, and coordination of annual financial and pension audits by an outside CPA.
She also serves as chair of the communications committee for the Foundation Financial Officers Group, and is a board member of The Communications Network. Now married with a son, Moses enjoys cooking, travel and volunteering in the community. Once a month, she and her husband prepare meals at the Ronald McDonald House.
She looks forward to continuing NEFE's legacy while bringing a fresh perspective.
"The world has changed and NEFE is poised to advance in a new direction," Moses says. "I am excited to support NEFE as it modernizes and rises to the next level."