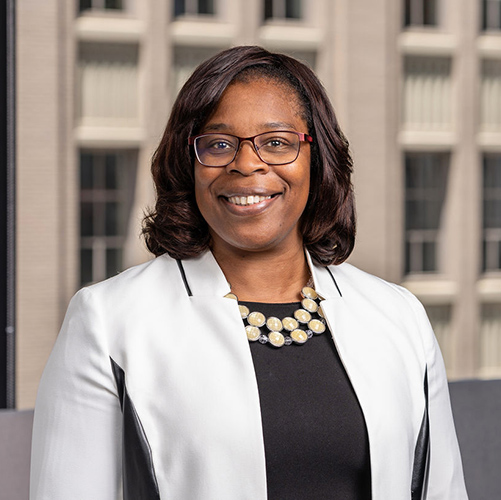 Michelle Samuels-Jones, Ed.D., senior director of Equity, provides strategic leadership, direction and support to advance equitable and inclusive practices in financial education—particularly among historically underrepresented and/or marginalized racial and ethnic populations and other underserved groups. Michelle spearheads efforts to address and influence the design of systems, policies and practices that promote effective financial education for all utilizing high-quality research, thought leadership, assessment and strategic partnerships.
Prior to joining NEFE, Michelle served as a higher education consultant to help shape environments where all students could succeed and thrive. She held an array of roles on college campuses in the areas of diversity, equity and inclusion; academic engagement; student life/student success; administration and finance; assessment; and policy development. Michelle's work with diverse student populations and institution types included positions at the University of Virginia, Lehigh University, the University of Maryland Global Campus and Fayetteville Technical Community College.
Michelle earned her doctorate of education in higher education from Northeastern University. She received her master's degree in counselor education and her bachelor's degree in rhetoric & communications studies from the University of Virginia. She is an avid fan of Star Wars and often enjoys watching the movies and character series with her family. Michelle also enjoys traveling, listening to live music and attending a variety of sporting events.