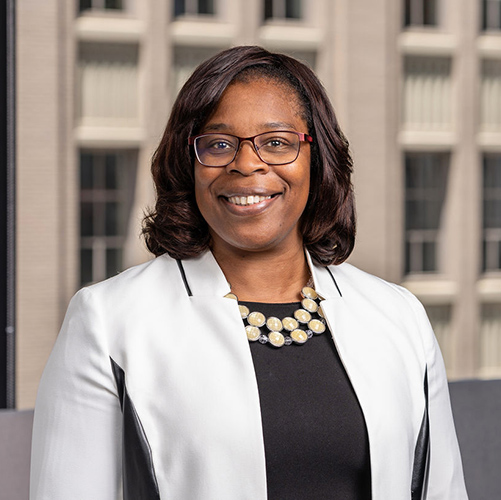 DENVER—Michelle Samuels-Jones, Ed.D., has joined the National Endowment for Financial Education® (NEFE®) as senior director, equity, a new role for the nonprofit foundation that will focus on the implementation and advancement of research-based practices to address structural, programmatic and leadership needs promoting diverse, inclusive and thriving environments.
"Michelle is an attentive thought leader with extensive experience leading initiatives that advance the well-being of under-resourced and under-represented populations. She exhibits tremendous passion and is an ally for impactful and sustainable change," says Billy Hensley, Ph.D., president and CEO of NEFE. "We embrace her energy, and undoubtedly, she will fit right into our community of passionate advocates as a champion of effective financial education."
Samuels-Jones has been an organizational and systems change agent for nearly three decades. She has worked with individuals, teams and communities on various disciplines and practices in strategic planning, leadership development, transformative program design, policy, research, assessment, diversity, equity and inclusion, helping organizations reimagine their vision and achieve their desired outcomes.
"I admire, and am inspired by, the quality of work and stewardship that NEFE provides as a thought leader to advance financial well-being. It's exciting to join such talented professionals who are dedicated to an important mission," says Samuels-Jones.
Throughout her career, Samuels-Jones has led organizational strategy sessions, leadership retreats and professional development workshops for over 250 teams, including higher education, nonprofit and corporate executive leaders and boards. She has advanced change and transformation in higher education governance, post-secondary student and family success, and policy design.
Samuels-Jones previously served as a higher education consultant, committed to championing, advocating for, and shaping holistic, inclusive environments where all community members can thrive. As a consultant, she delivered over 100 presentations on college campuses, at national conferences and for community events. Before serving as a consultant, she was a senior leader at Fayetteville Technical Community College and the University of Maryland Global Campus (formerly the University of Maryland University College). She also led teams of varying sizes and expertise at Lehigh University and the University of Virginia in the areas of student and faculty engagement. Samuels-Jones earned her bachelor's degree in rhetoric and communications studies and a master's degree in counselor education from the University of Virginia. She also completed her doctoral degree in education from Northeastern University.
Read more on NEFE's leadership.