I write this today sitting in my new space, at the end of my first month at NEFE as the organization's first senior director for Equity. Over my first weeks, I have aimed to capture the impact of the organization's first 30 years to gain a broader perspective. I am not coming into this role as a financial education expert who is adapting to the world of DEI, but rather as someone who has deep experience in shaping environments to serve underrepresented groups—specifically in higher education—and who wants to integrate that experience into what this field wants and needs.
I am reflecting on the fact that my first weeks at NEFE are in June, which hosts PRIDE month, Black Lives Matter month, Immigrant Heritage month, and recognizes Juneteenth and National Indigenous Peoples' Day, among other opportunities to celebrate underrepresented communities. What needs to be done to guide effective financial education for these and other underserved populations? I came to NEFE knowing that advancing equity across the entire field was a challenge, yet the journey would be as rewarding as the milestones.
I see so much opportunity to merge my work throughout higher education with the potential to address key areas. I am thinking back on some of the other spaces I have worked and considering how those experiences will help me now: roles where I have worked to remove obstacles that impeded students' ability to thrive in and outside the classroom; roles where I developed policies to decode environments and help departments adapt inclusive practices to effectively address different needs.
I came to NEFE knowing how much amazing work has been done and is being done. This team is made up of talented individuals who know the financial education and financial well-being landscape. I am looking forward to drawing on this talent to drive thought leadership on how to serve our communities that have been disenfranchised.
But I know that the work to advance equity isn't bound to one space. I plan to spend time all over the country, engaging in conversations, meetings, conferences, presentations, and other opportunities to absorb, analyze and synthesize the different ways equity is perceived throughout our field and beyond. We need to gather talent from other fields, figure out what works and what doesn't, and embed those concepts into what our field already does so well. My hopes are that I can bring a level of understanding, education, debate, and persuasion to advance our work.
---
Sitting in this space, I know I am right where I need to be to make a difference.
---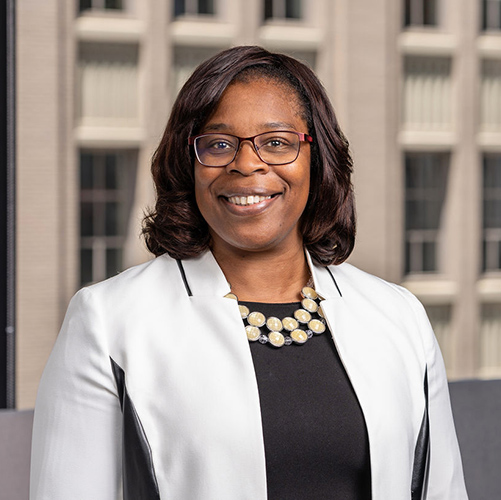 Michelle Samuels-Jones, Ed.D., is senior director, equity of the National Endowment for Financial Education (NEFE), a nonprofit foundation that champions effective financial education. NEFE is the independent, centralizing voice providing leadership, research and collaboration to advance financial well-being.