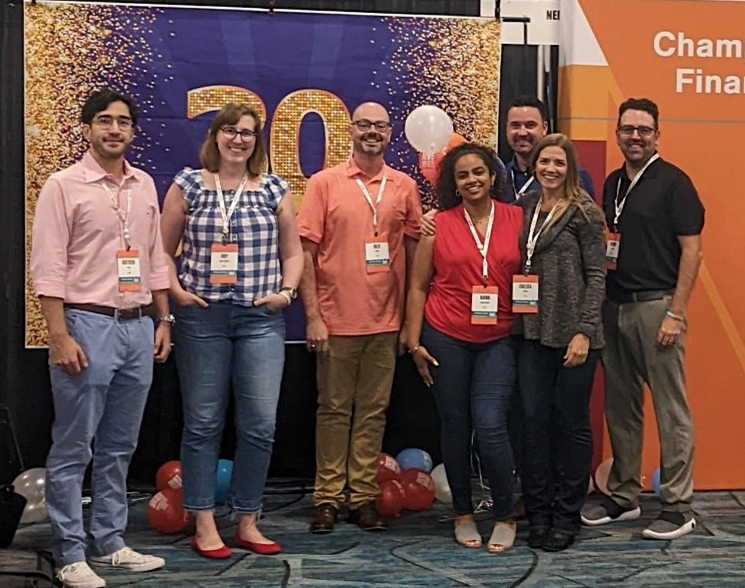 Another FinCon Expo experience is in the books, and once again, we were proud to be a bronze sponsor.
FinCon, now in its 11th year, is a digital marketing event for anyone creating personal finance content. Bloggers, podcasters and influencers—all with different levels of experience and expectations—participate to share what they know (and learn what they don't know). The NEFE staff who attended this year ranged from experienced FinCon participants to newbies. Each of them had a different perspective on their key takeaways:
The FinCon community are self-described "money nerds" and this conference attracts intelligent, well-intentioned people who want to use their platform to help others. Among FinCon members is a sense of passion for helping people navigate what can be a complex and complicated system. I appreciated the opportunity to speak on systemic challenges and how to advance effective financial education but was particularly gratified to highlight NEFE's recent data focusing on financial discrimination, bias and exclusion among the LGBTQ+ community.
One thing I loved seeing at FinCon this year was the number of creators who were really dialed in to their particular audiences' needs. We met people focused on female small business owners, first-time LGBTQ+ homebuyers, people of color planning for retirement, and other specific audiences. I was excited to hear how FinCon attendees created such relevant materials for each situation. It was a good example of seeing the principle of relevant, timely information in practice.
I always enjoy attending FinCon because I have a chance to meet people who are working hard to improve the financial well-being of their audiences, often within niche communities. For instance, some folks focus on creating and sharing content specifically for members of the military and their families. Others focus on the LGBTQIA+ community. Some focus on reaching people who support loved ones with physical or mental disabilities. The FinCon community is incredibly diverse, interesting and motivated to make an impact.
This was my first FinCon in person, but because of our commitment to the event, we are thinking about the event all year. I was taken aback by the outgoing support for each other, especially from content creators. The vibe is more about raising everyone up instead of competition. This makes FinCon a "safe space" to share ideas, but also admit where personal gaps in progress exist without fear or concern.
My biggest takeaway from FinCon is that financial trauma is real and requires healing. Also, there are a lot of financial education educators and influencers that we can learn from and collaborate with.
This year's FinCon was a big success in helping to grow our community in the digital space. A majority of the people who stopped by our booth were freelance writers and podcast hosts looking to partner with us, and those who were interested in our work ended up scanning our QR codes for social media and mailing lists. I think the way we marketed our presence online definitely helped in curating new members of our community, and I am glad that I could be a part of our growth this year.
FinCon has been a great place for NEFE to make connections and new relationships, especially since making the transition to focus on research and thought leadership. We shared information about our Personal Finance Ecosystem, our research objectives and consumer polling—all with the underlying goal of providing our independent, centralizing data as ideal building blocks for content creators to form their customized strategies. Subscribe to NEFE's newsletter to stay current on new research and tools.